$Art Has Taken Over the Art World
June 2, 2014 Posted by admin
$Art has taken over the art world; what's a real artist to do?
Contemporary Art is now $Art, and we fine Artists and fine art lovers don't have to take it anymore!
Don't call it contemporary art, call it contemporary non-art, or $Art, and I will say, "Hoorah!"
It's like the emperors new clothes, no one has the nerve to call it like it is but I will.
I have earned the right to judge art. My mother, Ethel Kipnes 94, is a talented painter. I grew up in the National Gallery of Art in Washington every Sunday instead of church, as my parents were Russian atheist-communists, in spite of being quite wealthy. Art was God.
I was sent to the finest art schools, Pratt and Parsons. I was never educated in anything but art. I can not do anything but art, and now I am celebrating 50 years of fashion in Paris couture, so I can write this critique. I now even write about art. My opinion is respected.
In 1964, upon graduating from college, I went to Paris, I befriended Elizabeth Taylor whose father was an art dealer. Elizabeth became my sponsor. Our mutual love and knowledge of art became the close bond in our partnership. My other business partner, Mia Fonssagrives was the step daughter of Irving Penn and Vogue was her family. We met at Parsons in New York and were mutually drawn to one another as we were the only fashion students sewing and wearing exclusively our own designs.
My term paper on art history in a class under professor and painter Paul Braque, was "Modern Art Began Because of Rembrandt" where I stated that when artists saw Rembrandt's work that could not compete (artists are as competitive as athletes) so they had to find another art style, as Rembrandt was the only artist who could paint people ALIVE on a canvas. They breathed. Their eyes moved! Some clever artists said: " We don't have to paint realistically, it's boring, we will invent something no one has seen before.
As I got older, I got a reputation: VICKY KNOWS ART. French fabric houses had me pre-select their best prints. I was asked by Les Wexner to help him choose his De Kooning ( I knew De Kooning's work from the 60s in the Village. Local girlfriends who would visit his studio were all his lovers). He was one of the artists whose modern abstract work led to non-art and $Art along with Andy Warhol, a fashion illustrator of shoes, and my L.A. friends, Billy Al Bengston and Ed Ruscha. What did these four men all have in common? They had incredible charming personalities that would make them art rockstars. My friend, Samantha Eggar, fell for Ed Ruscha like a brick.
What is art anyway? They say beauty is in the eye of the beholder, so what does that tell us about our economy today, it's all about money and more money, so $Art makes perfect sense. Stock market men invest in things they can not hold touch or feel in the market, at least with $Art they can see a Damien Hirst dead cow and a 12 million dollar frozen shark.
Let's just call it NON-ART and even the non-artists can rejoice, as they realize they can't draw or paint any better than my seven-year-old granddaughter, Lucie Belle (who by the way is so talented, she will soon have her first fashion collection, but the kid can draw a dress). They can't. They often have assistants today who can draw, do all the art work. Just like the fashion designers today who can't draw, but their "team" is the real artists.
Thanks, Andy Warhol for inventing this phony artist world. Since Andy came from fashion illustration, he figured it out as the 60s and 70s had the first celebrity fashion designers who were not able to sketch, drape and sew but their team did all the work. The designer socializes, schmoozes and hires people like me who are the artist. The artist's one requirement to brand successfully is to have no morality, just as the banking and money world goes, so goes the $Art world.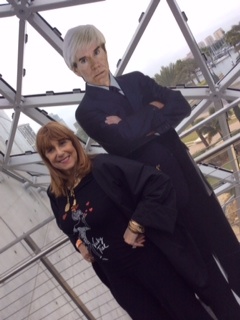 The word "branding" is the word of our century. Countries are brands, religions are branded, cities are brands, teams are brands, people are brands, and so is my dog; we are all brands!
I'm a brand, my name represents a picture in consumers' minds: French, glamour, sexy, expensive. Wear Vicky to get a man. My image is so French, if I put my name on a dog food, the consumer will think it's French, gourmet dog for fluffy, sexy dogs that need dresses.
If I marry a millionaire and I pay a publicist enough, I can become a billionaire instead of a millionaire. My brand is as big as my bank account. The return on publicity is one thousand fold.
Will real art by real artists have a comeback or will performance, crazy, very weird $Art take over the planet, and no one will paint a realistic piece of work ever again because they can't sell it? Will aliens come here from another planet, visit Art Basel, and say "THIS IS JUNK, let's get out of here?"
Vicky Tiel began designing clothes 40 years ago in Paris and still owns a boutique there. See Vicky and her new collection on HSN and online. Her couture is available at Bergdorf Goodman and Neiman Marcus, and her perfumes are carried in Perfumania. Her memoir, It's All About the Dress: What I Learned in 40 Years About Men, Women, Sex and Fashion was published by St. Martin's Press in August 2011.