Diversity Is the Name of the Fashion Game for 2014
July 2, 2014 Posted by admin
Diversity is the name of the fashion game for 2014. I counted 12 entirely different body shapes on women in New York's Penn Station this morning as I went to work on a hot July morning on 7th Ave. The ladies were moving fast going to work, but I managed to sketch them all as I'm fast with a pen. Last year half the women would have worn tight black jeans or leggings and tunic top, but today anything goes.
I only counted two looks on men, long cotton slacks and long "Bermuda "shorts.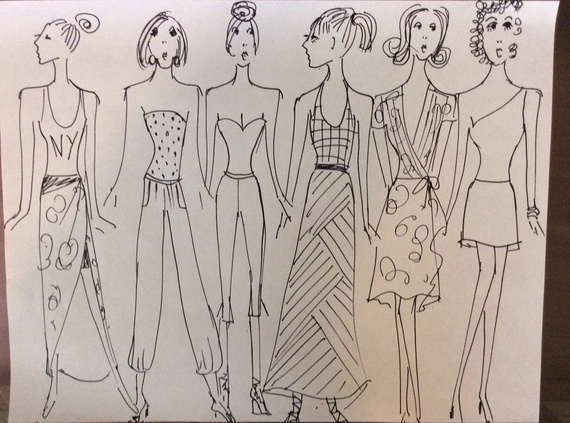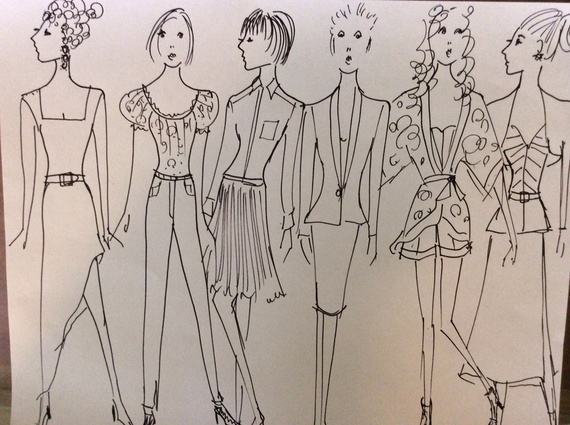 This means FASHION TRENDS ARE OUT.
Since the Middle Ages in all the World Capital Cites women who could afford "fashion" had choices as styles could evolve or change every decade. In a lifetime, a woman had two or three "looks."
My grandmother, born in Russia and living in Hudson, NY, had two skirt lengths in her lifetime.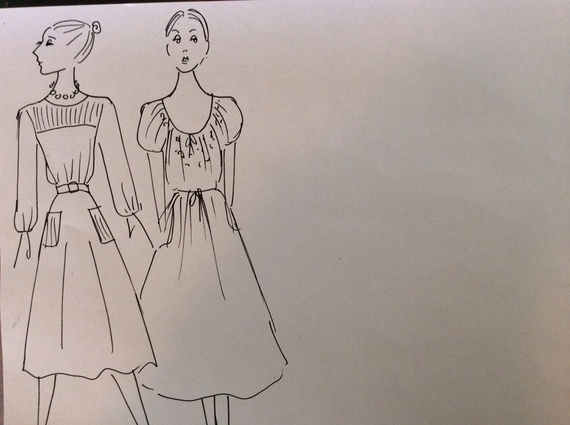 My mother, born in 1920, had four silhouettes. Shorts were introduced for sports only.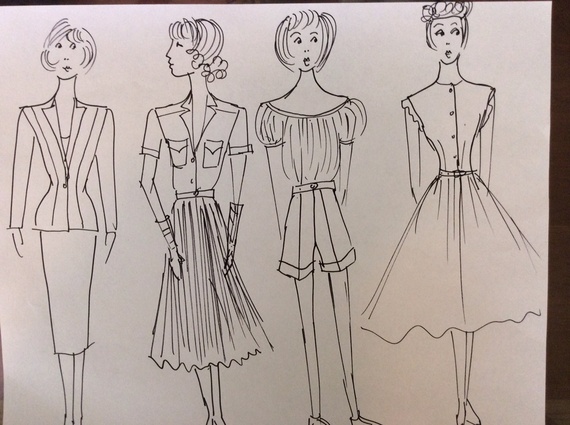 In today's world, except for severely-inhibited women of strong religious beliefs dominated by men terrified of women's power, there were always fashion trends, that is one look that dominated ladies clothing.
A quick review of ladies' fashion since 1900 — here are six drawings.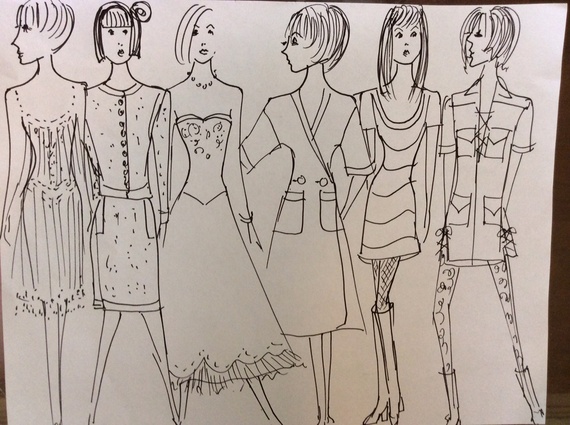 Long bias shapeless dresses were worn at the turn of the Century by Poiret .

Boxy shapes in the '20s were introduced by Chanel.

The fitted suit with a shoulder pad jacket was introduced in the '40s by Balenciaga.

An ankle-length full skirt was introduced by Dior in 1949

Knee-length, full-skirted fitted dresses with waists were introduced in the '50s by American TV and Claire McCardell and YSL.
Pierre Cardin invented licensing in 1961 and Couture expanded all over the world. Mini dresses, jumpsuits hot pants were introduced by yours truly and Mia Fonssagrives and bandage skin tight dresses by Azzedine Alaia in the swinging '60s. Women wearing menswear by YSL in the late sixties with the safari dress, the tux and a return to his 1959 ankle length peasant skirt. Big shoulders of the '40s returned in the '80s thanks to YSL again. Beading and embellishments that were only for evening wear were worn in the day thanks to Italian designer Versace who jazzed up the runways. These decade-long trends went on until 2010 when everyone on earth got a computer. My grandson got his at four. Then everything changed.
Now I'm finding that in women's clothing we have about 10 trends a season and not one skirt length. It's a wild world out there now for a fashion designer like myself. We can design all different lengths in one collection and not have to explain ourselves. Someone will buy everything and anything even "art fashion" can sell, that is weird,boxy tucked shapes that look like they belong in a monster movie yet can be worn by skinny tattooed women as long as they have matching weird, strappy shoes or booties.
Women owe this new wide-open design world to the Internet, to pinning, to blogging and to the growing industry of online and TV shopping and the fact the the world is one iPad ,one iPhone, one computer click away. We are planet earthlings, fashion earthlings all in the same melting pot, from Dubai to Capetown to Nome, Alaska until a hip Martian lady decides to show up with a brand new look WE ALL MUST HAVE. Until then we can wear whatever and be cool!