Fashion Design Student Style: From the '60s to Today
December 13, 2012 Posted by admin
If you want to be a top dress designer today, you have to go to a great fashion school, and NYC offers two of the world's best fashion schools: FIT and Parsons.
Fashion students today at FIT, which is located at 27th and 7th Avenue in NYC, have a much easier student life than my fashion design class of 1964 at Parsons.
In the '60s, Parsons was in a converted garage on East 54th Street, and it was certainly visually unfriendly with small crowded rooms, non-existent outdoor spaces and one large, ugly grey elevator.
Today, both fashion colleges have gorgeous large campuses and classrooms near 7th Avenue, with all the garment center supplies stores within reach. FIT, where I am now a critic (this year I gave out the Adrian award), has restaurants, galleries, courtyards and an auditorium where designers like myself can lecture hundreds of students on a huge stage. We can even present our own films on a large screen with all the proper accoutrements of the great city universities.
My 30-some students, who are in their early 20s, hail from all over the world. The central courtyard at lunch looks like the beautiful people at the United Nations Plaza.
Each student is highly motivated, as they are the most talented young artists of their individual countries, coming to NY to learn not just how to draw, drape or sew, but how to learn to compete, which is the underlying basis of the fashion world. Designers must learn to beat out the competition, not just for awards, but for the optimum fashion goal which is to outsell the competition.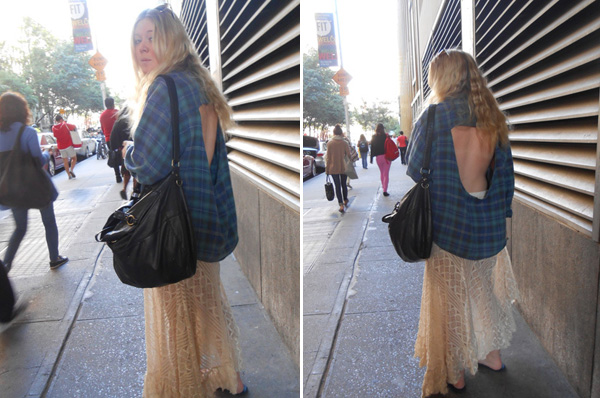 Following the beautiful blonde down 27th St., to FIT. Photo credit: Vicky Tiel
Just walking to FIT is a designer's delight. I followed a bare-backed blonde down 27th Street, and later that day I went out to buy a blue plaid shirt to cut open for myself.
I loved her wearing this great new idea on the first day of school in late August with the see-through beige lace skirt and matching blue slippers. (If we dressed like this in 1962 we would have been thrown out.)
I got in major trouble at Parsons in the fall of 1962 for wearing the first minidresses seen in NYC, then only four inches above my knees, and I was called into the dean's office and given a warning. I refused, however, to lengthen my skirts, and actually joined forces with Mia Fonssagrives, who also began to wear short skirts, and then there were two of us flashing bare thighs. And, as her stepfather was Irving Penn at Vogue, the Parsons leaders sighed and gave up.
The miniskirt launched our careers, and within two years we were photographed in Life magazine for bringing the mini in Paris couture. We still claim creation of the mini in NY in 1962, and Mary Quant has actually given up ownership of the first mini, saying today that it came from the street. Yes, it came from two fashion students on the street who were always onto the next new thing.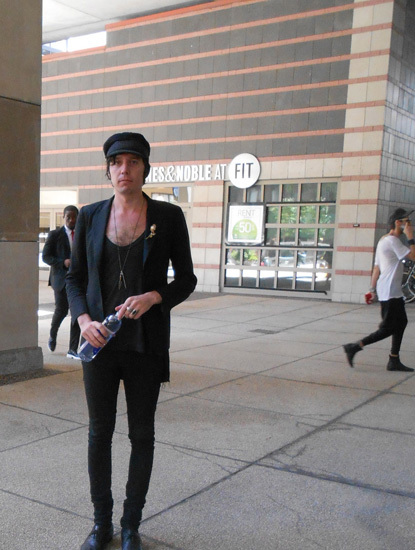 The beautiful student man in the FIT courtyard in his new look. Photo credit: Vicky Tiel
When I teach students, I tell them they must always wear their own clothes everywhere they go, even out grocery shopping, and promote their art and themselves as a package. At FIT, the men as well as women students adopt an individual style. Designer Thom Browne changed menswear with the shrunken suit he himself wore at his shop.
The teacher, Barbara Arata-Gavere, is a designer and is married to painter Frank Gavere. We had to select dresses that were inspired by Adrian and Hollywood, that were also new and wearable today! I insist on creating wearable, salable fashions. Artists can create to create, designers must sell something, and lots of something.
I picked Nelly Guinand's dress and plastic see-through coat, not realizing that she was also a great natural beauty, which does not hurt in the fashion world. There are exceptions, Coco Chanel created her beauty with extraordinary creative new style. Pauline Trigère, Elsa Schiaparelli and Edith Head each created a signature look that, like Sonia Rykiel's big head of red hair or Emmanuelle Khanh's oversized white sunglasses, screamed "I am here" when they walked into a room. The fashion world knew them by sight.
I've been asked by friends in the industry why I did not become a critic at my old school, Parsons, and the answer is quite simple, they did not ask me! George Simonton, the famous designer and illustrious professor at FIT asked me to lecture at his school when he heard I was spending time in New York. I have witnessed his classes and his students love him, and I try to also follow in his footsteps on TV as he is on QVC and I am now on HSN. George believes that TV designer dress sales will be growing even stronger in the future.
The world of fashion constantly evolves, and yet one thing remains the same — talent is easily spotted, and with lots of hard work the industry welcomes the young and the hungry.
But it doesn't end there, besides the hard work you have to want being a designer more than anything… just ask my husband!