Going Fabulous or Going Barefoot?
December 23, 2012 Posted by admin
How many pairs of shoes does a woman need? Ten pair, a hundred pair or a thousand pair?
I have been collecting shoes since I was 12 and went to my first dance with Jimmy Rowe at Kensington, Maryland Junior High School in an Audrey Hepburn style black suede pump with a curved Princess heel. My shoe size was then a size 7, and happily my foot size is the same today so I am proud to say, I still possess every shoe I ever bought.
Every few years I pull out some of the boxes and put some long forgotten shoes back into my closet, putting away the same number of pairs for another time.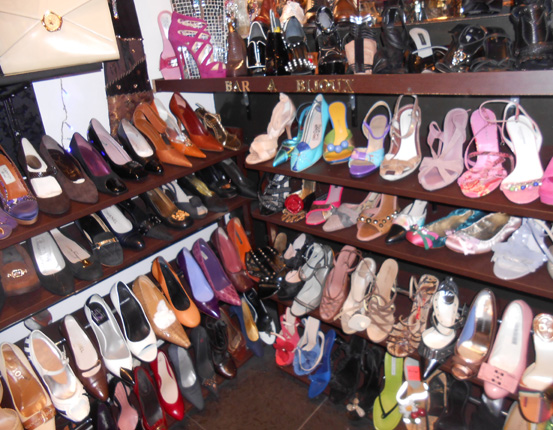 The "Vintage Bar" shop in Paris has a window shoe display to rival my personal, lifetime collection of drop dead shoes.
Each year I buy about 5 new pairs of shoes. I do not count the boxes, I don't know my shoe total as they are stacked everywhere in my various residences. It is a tragic family secret," Mom has every pair of shoes she ever bought".
I do not own gym shoes, plain jeans or plain white T shirts. I do not do casual. If I go for a country walk it will be in navy polka dot Capri pants with pink beaded platform tennis shoes with silver hearts, or I will wear a lavender suede 50's Gucci loafer to match a lavender print 60's vintage ruffle blouse over white lace stretch pants to feed our chickens.
Vicky Tiel will never have her designs sold in the sports department. Sportswear to me is a bikini to wear while doing laps in my Florida pool and my daily footwear in the country, or on the beach or in the farm house is BAREFOOT, even while wearing relaxing at home in my chartreuse, silver beaded Liza caftan, I am always barefoot. Yes, it's all or nothing for me in my footwear as in my private life, I go fabulous or I go barefoot.
Shoes are also very important to me as a symbol of my feminine power. I wrote in my recent book, "It's All About the Dress", that my father wisely informed me, "Don't Have Sex for Shoes", but work and pay for your own shoes. He explained that if you have to ask a man to pay for your shoes he might confuse you with a prostitute. I obeyed. I have yet to own a single shoe paid for by a man.
My fashion life takes me between Paris – New York – Miami – Palm Beach – LA, and I have favorite fashion shoe stores to stop and shop along the way.
Paris shoe shopping in the past has always been a tour of St. Germain de Pres, Rue du Dragon, (my first home), Rue de Seine, and Rue de St. Peres were my destinations, but I have changed banks as my Paris Shoe Tour is now the Rue de Roi de Sicile on the right bank.
For the first time in my shoe shopping life every new pair I loved was on that one street, highlighted by the discovery of my favorite new show designer on Planet Earth…the shop, the bespoke, Little Moon at 12 Rue de Roi de Sicile.
Little Moon and her shoes are not only a good fit, simple and beautiful, but they have the two qualities a designer must own to have a lengthy career, multi-age appropriate styling and dateless, timeless design. I wanted every pair!
Little Moon also owns her own store and her mom is her sales girl. Their factory is in China, but like my new Vicky Tiel-HSN Chinese made clothes, they are the top, top level in quality with detail oriented production. That did not exist five years ago.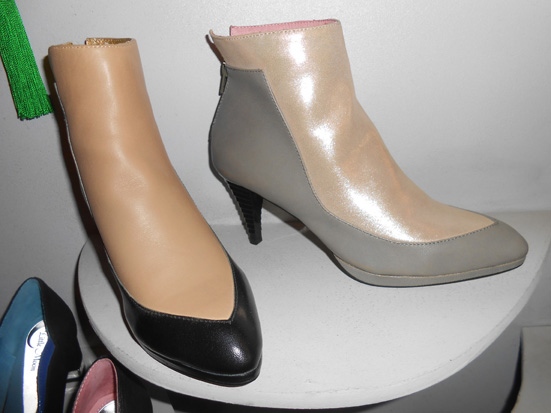 This Little Moon bootie was my favorite shoe of 2012, and I bought it in pink and black to wear with my new Fall HSN collection.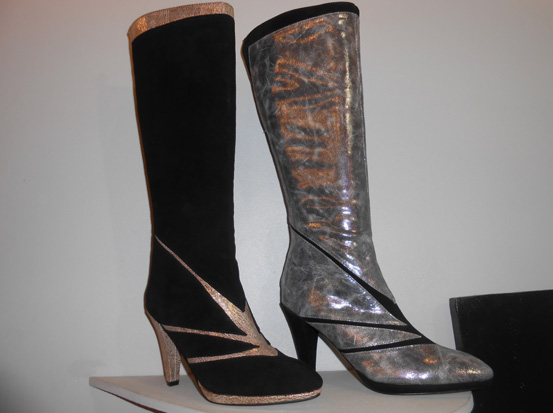 This Little Moon boot is a forever boot for all ages. I will order the black and gold.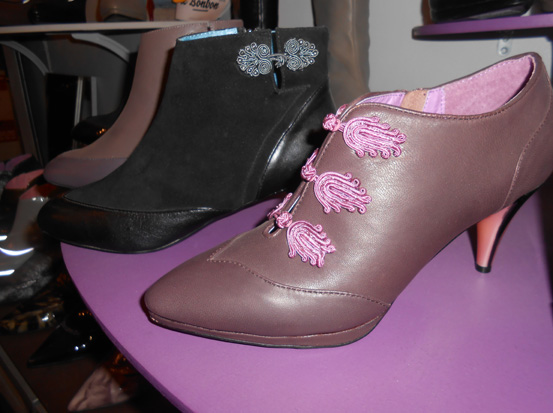 Little Moon bootie with little bows.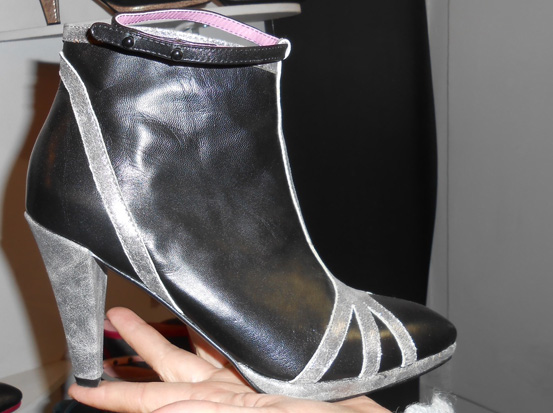 This Little Moon Bootie recalls the Maud Frizon 80's boots.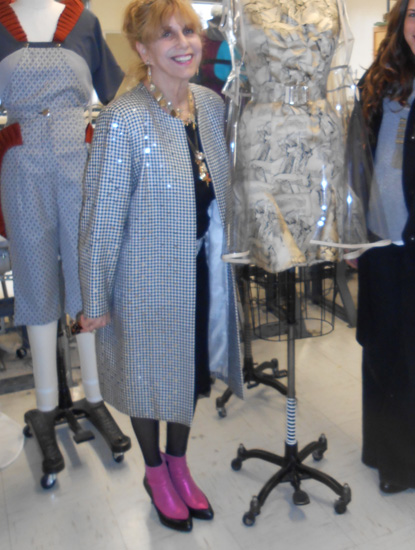 My new Little Moon booties go well with the tweedie wools for Fall.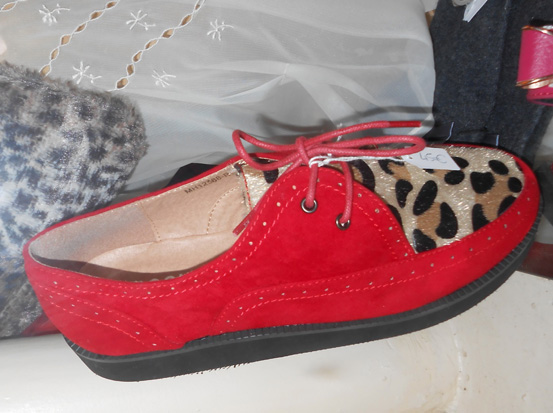 If I had to go for a long walk I'd go with a leopard red walking shoe, black tights and a leopard lame trench coat.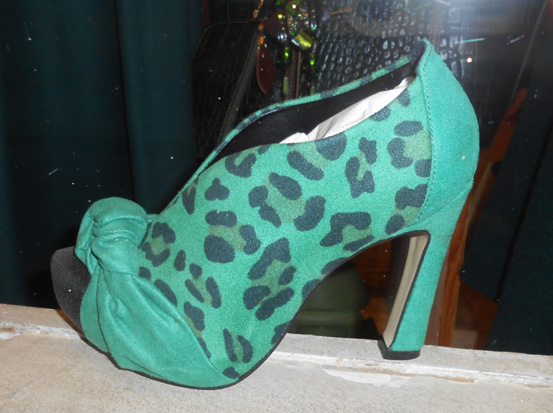 2013 youthful model of a swinging green leopard fantasy, not a timeless design, but a delight.
Men's shoes on the Rue de Roi de Sicile also have the hottest new looks, color and texture.This years best new men's looks are sleek and simple, with a fifties tone.
"Le Pick Chop" Cafe on Roi de Sicile is the local art world and gay fashionista lunch hangout, and the hippest designers who live and shop on the Rue de Temple demand that the local menswear stores provide the latest "branche" (in) fashion in Paris.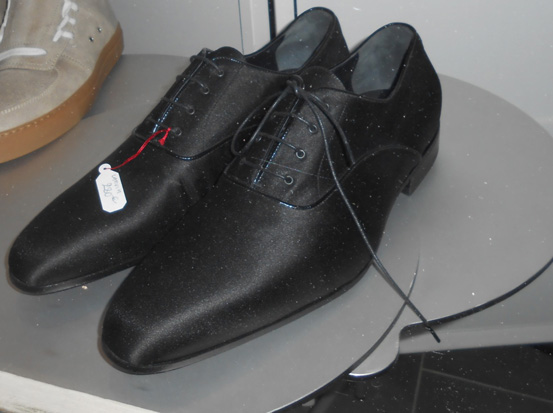 Black silk men's dress shoe with a new rounded, pointed toe.
The newest mens multi-color tennis shoe in soft electric blue suede.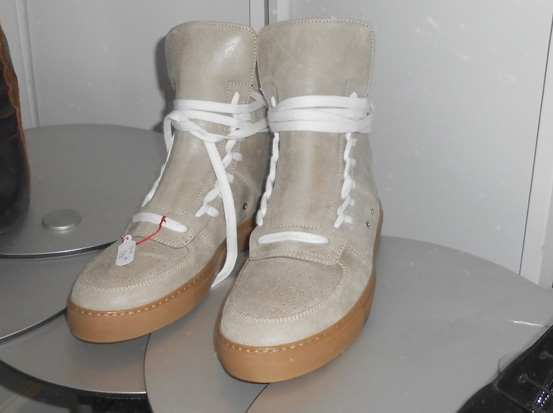 The new mens sports shoe in beige leather with double side cross lace ups .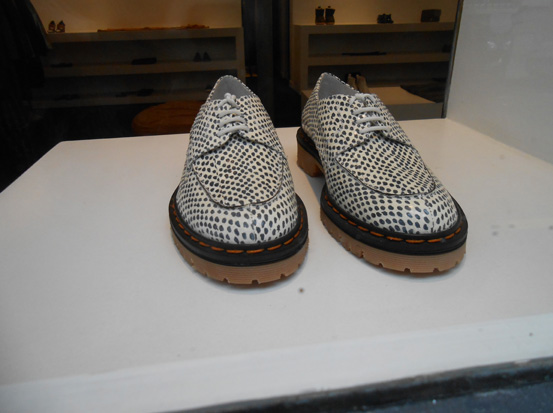 Men's painted polka dot loafers.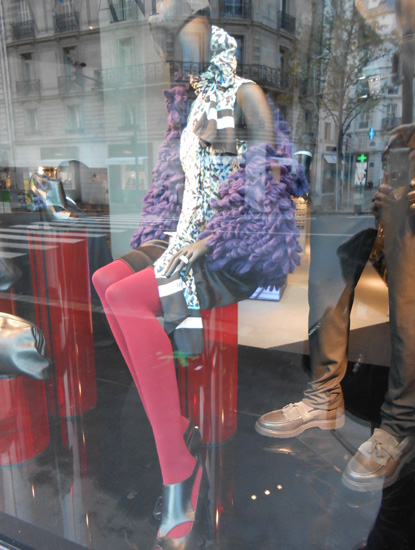 Colored tights in Armani windows for Fall with sling back platform strappy booties .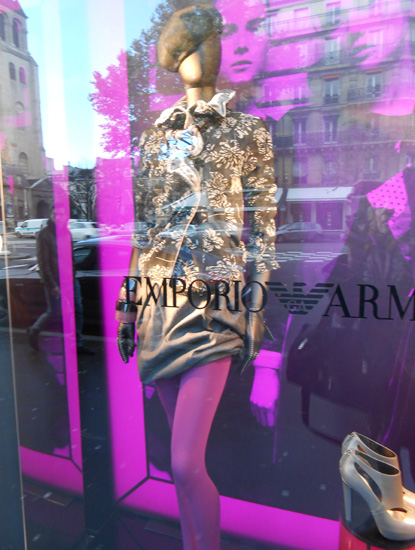 Armani purple colored tights for fall with their new cut away bootie, and the tweedy tone fall suit.
The fashion industry is based on a seven year replacement theory, the same as skin. Every seven years we designers give ourselves permission to copy and redo our best sellers. In the shoe or clothing world ….fashionistas…..it's safe to pull out your 7 year olds out of their storage, freshen them up with newly purchased accessories, and let your favorites REVIVE.
Vicky Tiel began designing clothes 40 years ago in Paris and still owns a boutique there. See Vicky and her NEW Collection on HSN and online. Her couture is available at Bergdorf Goodman and Neiman Marcus, and her perfumes are carried in Perfumania. Her memoir, "It's All About the Dress: What I Learned in 40 Years About Men, Women, Sex, and Fashion" was published by St. Martin's Press in August 2011.