Kidnapping My Parents
February 8, 2013 Posted by admin
Kidnapping my mother was going to be harder than I first imagined. I needed to harness all my power. The kidnap needed a brilliant plan, a coordinated effort between myself, my son Rex, and my parents' silver Cadillac. After a terrible fall, my mother was a patient in an exclusive Chevy Chase, Maryland nursing home and was due to be released shortly. I did not want my parents to end their life in a sad nursing home. I had to move them in with me and bring them to live their last days on my large farm a thousand miles away. It is what I would have wanted for myself.
To add to the degree of difficulty of achieving a well-organized kidnapping was the small problem that I came from a family of spies; my grandfather was the Asian Chief of the OSS directly under Herbert Hoover, the Washington spy team that predated the CIA. My step-dad, Milton Meisels, also had an antenna in his antennas, as he is an ex-Silver Star, Purple Heart, World War II hero and retired chief of the overseas IRS. Dad was not a rollover and was certainly not willing to leave his precious home.
At 90 and 92, my parents still drove their beloved Cadillac down busy Washington DC. streets to see the latest plays and concerts at the National Theater. They loved to visit the local three-star restaurants where my mother insisted on hearing live music (preferably a piano) with dinner and eating only on crisp, white linen tablecloths. My mother, born Ethel Kipnes, never cooked. She dressed in my French couture for dinner with pearls, gold earrings and Chanel pumps. After dinner, half the meal was wrapped up for their next day's lunch, a habit she acquired when I left home in the early sixties. She actually never cooked when I was growing up. She painted.
The current next-door neighbor in leafy Chevy Chase, Tom Johnson, a civil rights lawyer, called me in Paris using his professional, stern tone, "You must come back home Vicky, immediately, as your dad is driving down the wrong side of Connecticut Ave," which is a major Washington artery. Our street was a left turn off Connecticut and my dad was driving down the yellow stripes as the cars were swirling over.
Before I could return home that week, my mother had fallen in her art library at 2 a.m. while researching her paint colors, I'm certain, from her Bonnard books. The doctors told me she tripped on a Chinese throw rug and a hip stent was immediately added at the nearby hospital.
When I arrived at my childhood home in Maryland with a nurse, I found Dad unable to remember what day it was or what month or what year! "Dad, would you like to drive over and visit Mother?" I asked. "Where is she?" he replied. Sadly, he had been with her at the nursing home yesterday.
Early dementia comes overnight. The last time I saw my parents was early Christmas 2008 and the fall was in mid-January 2009. Was the fall my mother's response to Dad losing his mind? He did know me, our life, my kids, he just forgot the moment in time. And he forgot the rules of driving.
My son flew in from Brooklyn with his wife and our first grandchild, Luciebelle. My son and daughter-in-law, both creative videographers, had a plan. My mother would never listen to me, her only child, or pretty much anybody else either. The plan was simple, but everything could go wrong.
When it was time for Mom to leave the nursing home, my son would bring Dad and the Cadillac to the front entrance with the promise to take the old folks out to lunch at a new restaurant in the Blue Ridge mountains, one with a small orchestra and a fabulous view. Instead, he would kidnap them after the meal and drive them to my farm in northwest Florida, not telling them where they were going to live for the rest of their life.
Meanwhile, my daughter-in-law, myself and some male nurses would pack up the four-story Maryland house where they had lived for 55 years. I flew ahead to our 40-acre farm with two essential suitcases before the Cadillac arrived. The shippers took the rest.
When my parents stopped overnight at the famous West Virginia resort hotel, my mother was so happy she ate and slept better than she had in the last month. The dinner and mountain drive put her in a new frame of mind. By the time she had arrived at our farm on the second day she was listening to Eminem and Serge Gainsbourg singing along with my son, hip-hop music and hip pain gone. Dad's concerns were only about when he could drive his Cadillac and the sub plots were all automotive.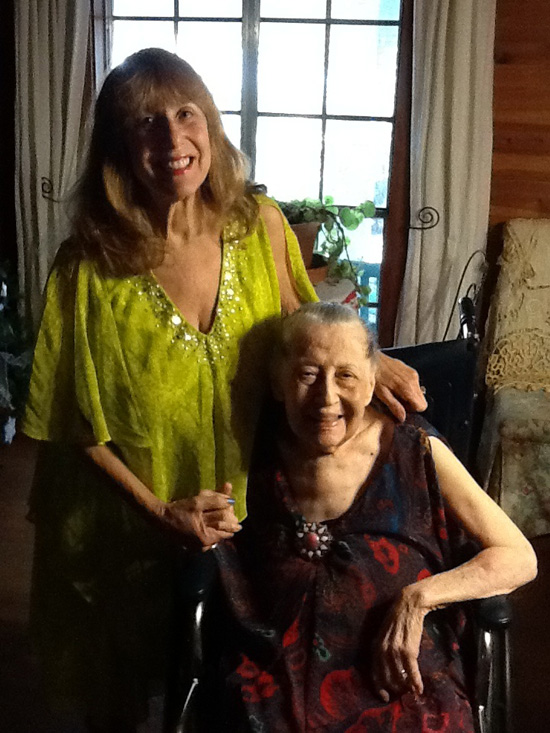 My mother, painter Ethel Kipnes, with me both wearing my new Liza Caftans from my HSN show.
After a year in my farm, not understanding "time" anymore, my mother — who was now drawing only in pen and ink — would ask, "When are we going home," and then I would answer "after vacation."
Vicky Tiel began designing clothes 40 years ago in Paris and still owns a boutique there. See Vicky and her new collection on HSN and online. Her couture is available at Bergdorf Goodman and Neiman Marcus, and her perfumes are carried in Perfumania. Her memoir, It's All About the Dress: What I Learned in 40 Years About Men, Women, Sex and Fashion was published by St. Martin's Press in August 2011.