My Hot Babe Makeover
April 23, 2012 Posted by admin
My 'Hot Babe' makeover for my first TV appearance on HSN started with a cab ride to New York City from our family mountain cabin and the train ride down the Hudson River.
"Go slower," I screamed at the New York City cab driver as he roared past yellow buses. "I'm a senior almost seventy." My long-haired driver with a purple turban on his head turned on me."You are not over fifty, Madame — do not take me for a fool, just because I happen to be from India."
"It's my outfit that's young, I'm not," I told him once again proving my point about men. "It's All About the Dress or how you dress and I was wearing my new tennis shoes in silver lame, with red patent heels, the absolute latest shoes from Paris that I bought on the Rue de Rivoli last month and a beaded T-shirt under an off-the-shoulder black chiffon see-through peasant blouse, with black cotton satin pedal pushers. He mistook me for a younger woman! It was a lovely gift to start my day.
I have been reluctant to do the plastic surgery puffy fish lip bit, or even the lightly tighten neck pull as I tell those who ask, "Why not Vicky, we are all having it done." I reply, "I have a husband, I don't need one" always imagining that a really new me would frighten my darling man off my body. Surgery would be only in case I ever needed a new man but after almost 25 years of being together with my 15-year younger man (who is still at home on our farm), my Hot Babe makeover must be limited to the exterior me.
My HSN line is being produced by the G111 company. The wife of the CEO is my couture client and she knew who I should call when I asked about a quickie dental makeover. "The top dentist in the city is Brian Kantor and Brian is performing his magic in a duplex office on Central Park South, opposite the glorious springtime park."
As I lay in his chair with my mouth wide open, the very handsome Brian told me, "You dressed my mom." After a few painless hours, I was handed a mirror. My yellowish teeth from drinking French espresso every morning of my life suddenly disappeared, and in their place were white veneers covering my teeth, that were straightened to perfection. The movie star's smile I had always dreamed of was there smiling back. Hello Pussycat!
If I had started the day looking 50 I was now a hot 40 and counting down.
The next stop was the hairdresser. I went to Joseph's, the hidden exclusive club on E. 61 Street, where Melba, who started life as an assistant to Kenneth, (Jackie Kennedy's coiffeuse), rules the Upper East Side. Melba is the goddess of color!
For three hours she streaked my hair with spiky silver paper points turning me from a creature in a scary Tim Burton movie into the glorious 30-something that raced out into the New York City spring streets dancing and singing to Fun — the new top of the charts song, "Tonite I am Young."
I raced down to Chinatown to the nail salon I frequent where I was served a late lunch of salmon and avocado sushi. While I ate, my nails were painted pale lilac and top-coated with electric blue sparkles, making a new purple that shines like day glow in the light. I had picked out the colors in a Target with my five-year-old granddaughter on our Easter holiday at Seaside, Fla., near our farm. Luciebelle is the new colorist in the family, telling me the corals are over and light purples and blues are in. Target is training her to follow the fashion trends in her weekly visits. She bought the entire Missoni collection when it came out, telling me that she bought the larger-size sweaters to grow into as the zigzag knit was good to wear over everything.
In the mall I spotted a beautiful Eurasian woman with perfect eyelashes and she told me CVS has the best eyelashes, so easy to put on. I bought two pairs.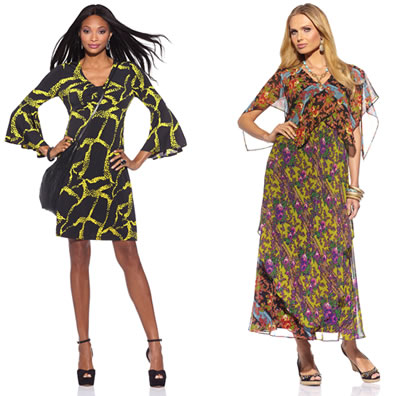 My next stop was JFK and a plane to Tampa, where I've been told my HSN promo photo appointment awaits at the St. Petersburg campus. Before shooting the new me, I had a last minute checkup. My cashmere paisley print, "Liza" caftan is perfect when belted. I am ready. Catch me on HSN TV on April 25. I will be the first French couturier selling dresses cut from French patterns. The bias cuts on my short dresses are like no other turning every woman into a hot babe!
VICKY TIEL began designing clothes forty years ago in Paris and still owns a boutique there, as well as dedicated mini-boutiques in Bergdorf Goodman and Neiman Marcus. In fall 2010 she launched a line of cocktail dresses and special occasion wear sold through department stores nationwide. Her memoir, IT'S ALL ABOUT THE DRESS: What I Learned in 40 Years about Men, Women, Sex, and Fashion was published by St. Martin's Press in August 2011.