"What's Hot Today, I Asked Her, as Fashion to Make Men Fall in Love With You Has Been My Domain
May 14, 2012 Posted by admin
You know when you're traveling too much, when you are on the 6 a.m. plane and you wake up from a deep sleep and think "I've got to catch my plane."
I had been on another world wind book event in L.A. speaking onstage about Fame at the world famous LA Book Fair, then a talk with M.G.Lord at the Ebell Theatre about Elizabeth Taylor, the Accidental Feminist, and lastly a book party at Elizabeth Mason's Paper Bag Princess shop in Beverly Hills where she showed Shirlee Fonda's '76 piece Vicky Tiel vintage collection and I had a red carpet photo op with Peter Fonda, the hero of my favorite '60s film Easy Rider.
Another plane, another hotel and then the launching my first HSN dress collection in Tampa at the HSN campus (we sold out, books too) and another plane the next day where I flew to New York for the Parsons Fashion show. That was all in only one week. You have to be really healthy today to launch a book, a dress collection or an art exhibit.
The Parsons School of Design show was at Pier 69, in New York City, a far cry from our 1964 fashion show held in our tiny school over a garage on E 54th Street.I went to the 2012 show (my first), with fellow 1964 classmate, Mary Alice Orito. We entered under a gigantic banner that exclaimed, "You Never Leave Parsons." We looked at each other and smiled.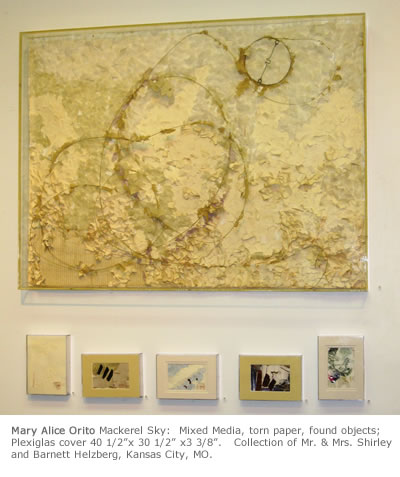 After years on 7th Ave, and theater costume design, and TV design (Search for Tomorrow) Mary Alice became a very successful psychotherapist for unhappy artists! (Mary Alice, herself a talented mixed media artist, recently showed her first solo art show called "Whimsy & Torn Paper" at N.A.W.A. gallery in New York City.) She was the perfect person to help me analyze and review the current Parsons Fashion show.
"What's hot today?" I asked her, as fashion to make men fall in love with you has been my domain.
"Nothing specific is hot," she replied. "It's different today because sex is more of a 'mental' game with young people. The mental games are 'dress up games' with selections of things from other periods of time, or direct copying of an era or the obvious indicator such as wealth. All it means is, 'We're on the same page." There isn't much risk. Sexy clothes, with cleavage and legs are for something specific like clubs, bars, or parties and usually late at night. Every thing's hot, but then it's not. Besides sex itself is so open now?" she says to me as we studied the program of the award winners.
And then, the show began and it was a complicated affair of multiple dissecting runways, video screens and streaming pop music, including my favorite, "Tonight We Are Young," and I was not young. I was in shock by the clothes. The show was defiantly influenced by the collection of Alexander McQueen at the Met last year. The Show was The Thing… not fashion, nor dressmaking, nor couture craft work, nor art but all show — and a very international show it was! This was theatrical design at its' best (not retail); it was Sci-Fi, video and Japanese Hakama tucked clothing layered up like modern city martial arts geishas. The pencil thin models wore the new puffball hairdo of Karmin in the top 10 music video, "Brokenhearts," a hair-do once a wierd-do, worn only by fashion reporter Suzy Menkes, had now gone mainstream.
"Art is Artificial," could be the Parsons' theme song. There was little reality except for the glorious multi weave, multi hued knits… and the few bias pointed salable chiffon skirts, and some elaborate perforated layered leather clothes.( I only wanted to wear the perforated black suede pants).Sex and seduction was out of the question. Even the backless or see-thru organza backs had iron clad layered-art fronts that would keep all lovers at a comfortable distance. Young people today seduce in groups, or online and connect by their common Likes! Motorcycle Babe finds her dude, Pop princess finds her "Beib," and artists wear identical clothing items to pull their opposite in. I'm like you, love me! Because it's safe, you know me. The hot mini and bra of my day that turned on ALL MEN are still there but today you only score a rocker with that look not a geek computer billionaire.
My favorite dress was the gold twisted Sheilah Hicks — like art gown by Paula Cheng that would attract an art show in Chelsea on 22nd street… and could even hang in the Louvre as a modern day, Winged Victory!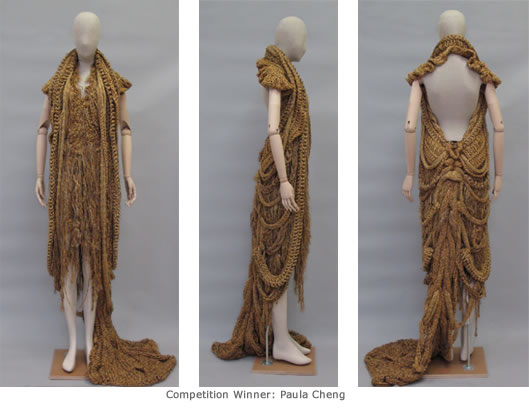 Mary Alice said, "Every generation comes out with a new product or a new way of seeing things that is their gift to the previous generations. We live on the Internet and will fly to Mars. These students may soon shock and surprise us. Generations seldom understand one another, but there has to be some overlap to co-exist. Look at the '70s revival."
Later at lunch we discussed the Parsons students who made it as a brand. Donna Karen comes to mind, as she was honored that evening, but we thought of our '60s Parsons' chosen one, the "next Yves St Laurent," Joel Schumacher, who left fashion as soon as he lost his first job (or hated his first job) to become one of Hollywood's leading filmmakers, and it made us realize that fashion is one of the most uncertain career choices. I tell the art students, when I lecture, that the worst student is often the best artist! Don't be unhappy if you fail at school, try to rejoice. Keep trying, you have a heads up, you just really have to want it.
Mia Fonssagrives was not the worst Parsons student: I was, but the two of us had a glorious time in Paris in the sixties, as Mia -Vicky, creating the mini in '62 the wrap dress in '67 and hot pants in '68. Mia left Paris in 1971 to become a sculptor, and has a 40-year body of work she has begun to exhibit.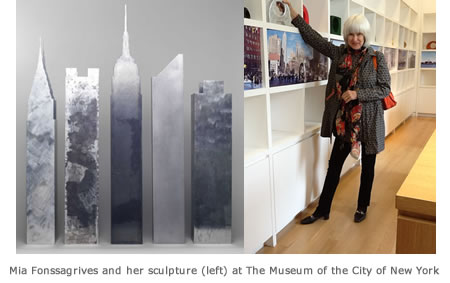 Today, I was in heaven to at last catch one of her retail art shows, this one in The Museum of the City of New York. We met for a heavenly omelette brunch at Sara Beth's Kitchen on Madison Ave and Mia explained to me that this show was in honor of her beloved New York as her three foot tall vases were silver skyscrapers, each filled with modern art like tree branches. While I was there, a woman bought two vases for her large set in window on Central Park West. I bought a 'Mia robot charm' for my multi-charm necklace to hang near my giant gold Tutankhamen. Her sculpture just like her fashion was classic and timeless.
When I went to Parsons as a young artist, who was also the daughter of an artist, I learned the PROCESS which helps me land on my feet. I learned to compete, to fight and find a way to get noticed. Art today is business. Fashion has become not about making clothes, but to get NOTICED to market yourself. Then, only then (not first) do you then have to come up with a product that sells and sells. But, in order for the buyer to open up their wallets, they have to believe in you, wear you, live with you, not just notice you
As I look over this blog, I realized that of the five living names that I mentioned who were connected to Parsons, only two are still involved in the fashion/clothing industry… Donna Karen and myself. The others went into other industries. It wasn't for them. Out of my 1964 Parsons class, only I still design clothing. Learning how to design, how to market are important parts of being a designer, but the most important part is really wanting every day of your life to BE A DESIGNER… no matter what.
Vicky Tiel began designing clothes 40 years ago in Paris and still owns a boutique there. Her couture dresses are available in Bergdorf Goodman and Neiman Marcus, and her perfumes are carried in Perfumania. Her memoir, "It's All About the Dress: What I Learned in 40 Years about Men, Women, Sex, and Fashion" is published by St. Martin's Press.