Williamsburg, Brooklyn Is Where the Cool Kids Live
July 9, 2015 Posted by admin
Williamsburg , Brooklyn is where the cool kids live. If you sit on a bench on the corner of Bedford and 7th near the METRO, you can see all the latest fashion on the "Twee generation"and then some!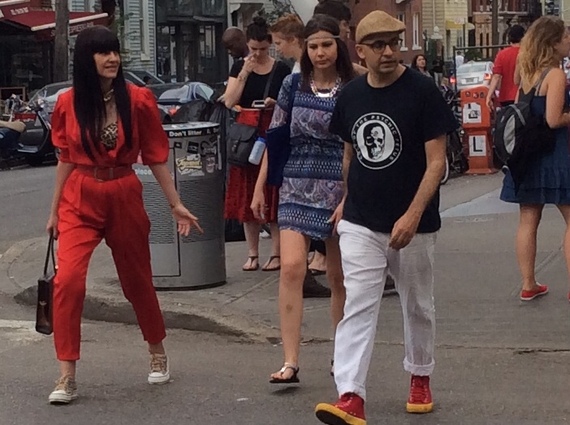 Williamsburg real estate is also the top of the NY market with property often higher than chic parts of Manhattan. Williamsburg is also home to the best budding art community in America. It has Bansky Style Art everywhere you look. I even saw a street wall collage of workers and drifters gloves and a 50 foot wall of Grafitti art good enough for a crisp white wall in the new Whitney.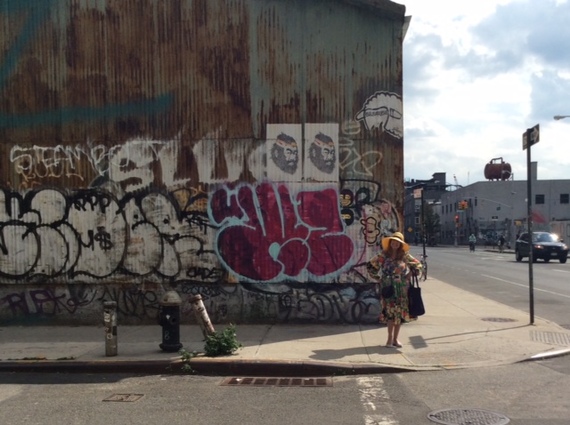 My first stop in Williamsburg on N 6th St. was the fabulous vintage shop, MALIN LANDAEUS and the beautiful blond owner, is from Norway. I bought a summer floppy straw hat from the seventies, however the dress I'm wearing is my own vintage from the Paris collection of 1972. It was sold in the early seventies at Henri Bendel.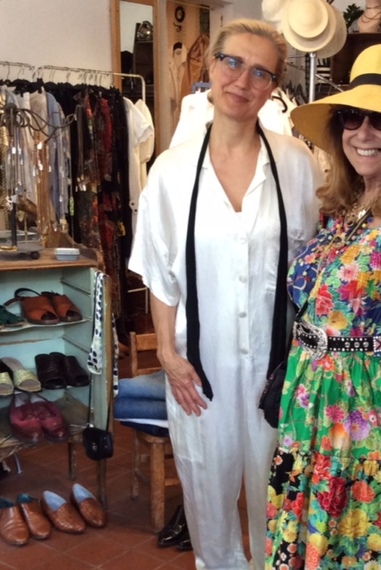 A great dress is forever. I recently sold a copy this tiered ruffle multi print dress on HSN. This original version was made from Japanese cotton and I'm wearing it with a vibrant cowboy diamond belt that cost $35 from a gas station in Alabama.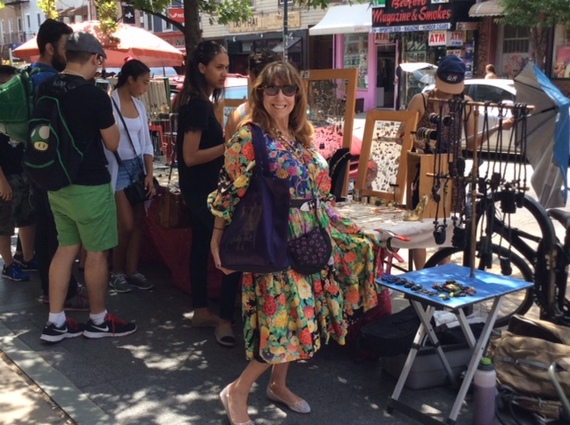 The restaurant I chose for lunch was SEA. The restaurant at 114 N 6th St. is a Thai dream. There is a large space with tables surrounding a Buddha waterfall pool. I ate only appetizers, lots of them.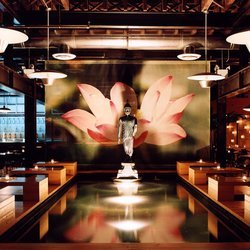 Special Roll ; Spicy mayo crab stick avocado cucumber and masago and sesame seed
Tokyo Fritters ; Crispy gold shrimp shumai with masago fish roe and spicy lime mayo
Jade Sea Food dumplings
Heaven! Do go with a date!
After lunch I then walked thru the hip coffee shops, accessories fashion boutiques, metal art galleries and old bookstores down to the East river for dessert at Alchemy Creamery (N 6th St. in Williamsburg) where they make their own vegan dairy free ice cream in unusual arty combinations.
Green Tea and Coconut
Chocolate Chai
Salted Peanut Butter
Strawberry with Caramel Popcorn
It was packed and I ate 3 scoops without blinking an eye and watched thru a glass widow all the nouvelle ice cream being invented in the back. Only Brooklinites are able to invent these wierd but truly tasty vegan combinations. I wouldn't think it would fly in Alabama near my farm as the lines in Dairy Queen with only chocolate and vanilla are always endless.
My job as a dress designer involves being inspired, by art and by the past. This explains a love of vintage clothing. My job also involves being inspired by the art of the present, thus watching beautiful young women in their personal creations, in themselves, is a must!
I have found the best place on Planet Earth to see the latest female fashion. It is at the cafe in the international customs exit in the Paris Roissy airport. I can sit there with my cafe creme and hot croissant and design an entire dress collection in one visit. I see the latest clothing from women arriving in direct flights from Tokyo, Joberg, Tahiti, and Rome in only 10 minuets and also see all the latest shoes, hats, jewelry and handbags as well as the latest way in Africa to tie a scarf. Women worldwide love to wear their newest look to Paris.
After Paris I will take sitting watch on a bench in Williamsburg Brooklyn to study forward fashion. The school I went to in 1961, Pratt Institute of Art is nearby as well as the art galleries and cafés all house only the hottest babes in NY to meet and greet.
Have a look and see what the ladies should look like in the summer of 2015.
Small Shorts.
Big Handbags with an Italian influence.
Bare Midrifs
Midi skirts in lace with mini slips underneath.
Red and Orange details highlighting Black and White outfits.
Ladies for summer of 2015:
Find a man also wearing shorts, funky shoes and be sure he has a beard, a great backpack and a hip hairdo.