70 is the New 45
October 30, 2013 Posted by admin
70 is the new 45. I should know; I just celebrated my 70th birthday with a gift to myself — a week in Paris all alone, just to eat, look at the fashion in the windows and art in the galleries and to photograph it all for memory's sake.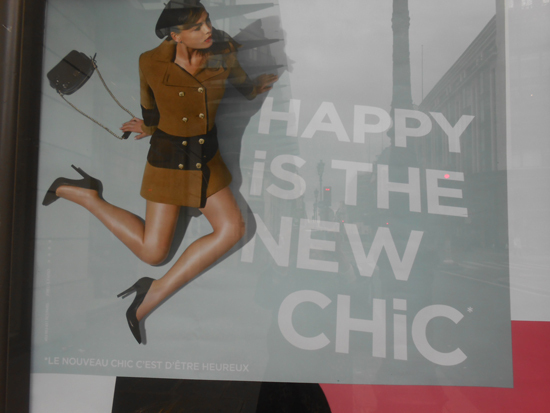 I have the greatest husband in the world, who lets me be me, be free and do what makes me happy. I would never want another man.
He waved as I left.
When I arrived in Paris, I found an email from my first boyfriend (at 13-14 years old) who was in Paris on holiday with his wife. I had to make them part of my birthday celebration week. We had not spent any time together since 1957, when we were a cute couple going steady at Kensington Jr. High School in Maryland and known for wearing matching outfits.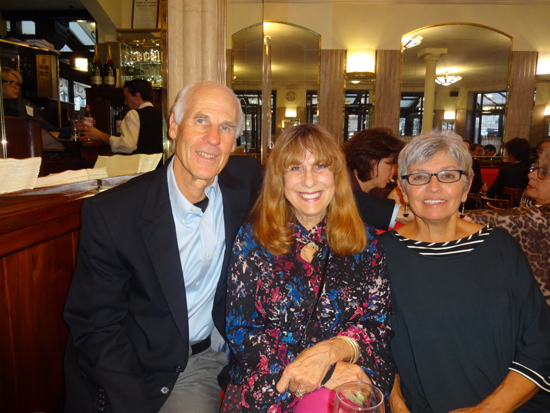 How happy was I to become great friends again with Jim and Nancy Rowe, of New Jersey, Florida and Nova Scotia. They walked together everywhere, every day for five hours a day and then walked some more at night, even walking to dinner on the other side of Paris. Retired for years now, they golf, sail, hike and swim all over the world and eat like the healthy French.
Jimmy, as I called him in junior high, was as short as me in 1955. Today, he is over six feet tall. His petite wife, Nancy, is his partner in life. The Rowe's are never sick, always full of beans.
When I was a child, a 70-year-old would look 75. Today, thanks to spas, yoga and Botox, my friends are looking like their children.
I am youthful, just like the Rowes, except for all the walking. My second husband is 55 and we look about the same age, (sometimes I can look 10 years younger, as I have a great hairdresser and he is going gray au natural). I do, however, stay only one size bigger than I was in my forties and still wear all the latest fashions and accessories, so I can easily go for 45.
Today, a younger husband doesn't have to look like your son.
I celebrated with the Rowes at the Cafe Flore, the hangout of Karl, Sonia and all fashionistas, and we were joined by more girlfriends from America.
I always eat the "Welch Rarebit" at the Flore, a British pub treat I learned to love with Richard Burton crawling pubs. I make a "Welch" at home in America. It's a grilled cheese sandwich with slices of English cheddar topped with more cheese and smothered with Worsterchire sauce.
How to live like you're 45? Eat like me, eat like the French models, eat by color. First, eat dark purples and blues; then reds, oranges and greens; then yellows. Eat few whites and eat no carbs after 6 p.m.. But when you are in Paris, EXPLODE! Eating by color is not a diet but a lifestyle, however when in Paris, you deserve a food holiday. Eat on your holiday only what you love.
I celebrated my 70th at Brasserie Lipp with Emmanuelle Khahn, another Paris designer of the sixties. We ate giant oysters in red onion sauce, followed by sole meunière in butter (the best in Paris) with skinny haricot verts and Lipp's infamous Mille Feuilles. I bought an extra one to eat the next day for my birthday present. You have to reserve them when you enter.
We sat between Roman Polanski (whom I dated at 17) and Vincent Lindon, who dated Caroline of Monaco and then became a movie star. When I mentioned to Roman that we went out when I was 17, he smiled, "I've always liked them young." Emmanuelle captured the wry look on Roman's face.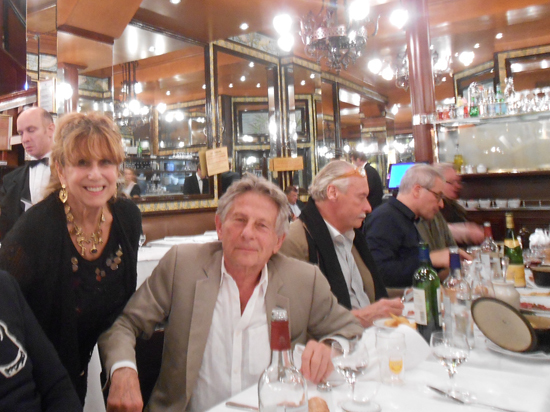 The new street to shop and eat in Paris on the left bank is the Rue de la Cherche Midi. You can begin with buying your bread at Poilane which you can take back to America. I always go there on my last day and buy rolls of raison bread and nut bread to take home and freeze.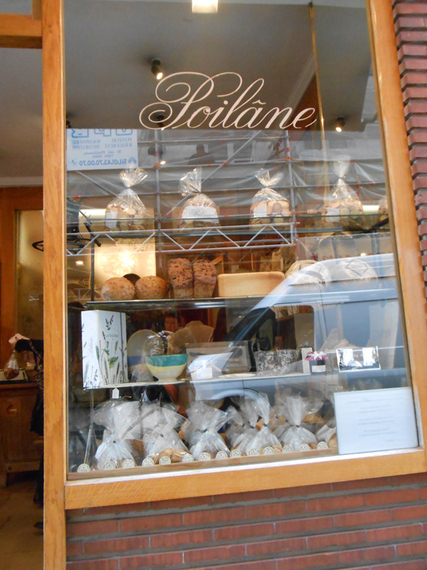 I shop the four vintage resale shops called Chercheminippes at 111 Rue Cherche Midi and cross over to the 127 Rue Vaugirard Paris 15th, where the latest craze is to wait in line to eat at the Boulangerie and walk the streets with their melted ham and cheese sandwich and fruit pastries.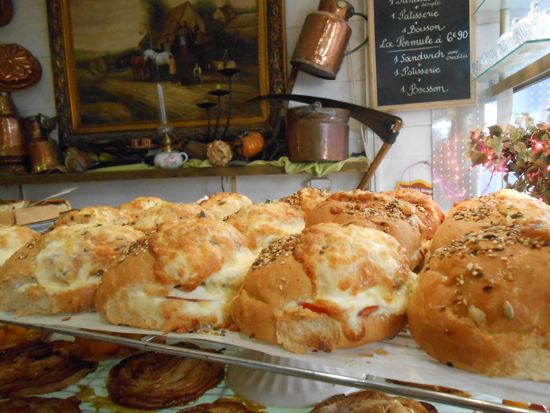 I chose two pastries to eat on the streets, the 6-inch pastry crust covered with caramalized fruit cocktail and a double layer mint macaroon with creme and raspberries.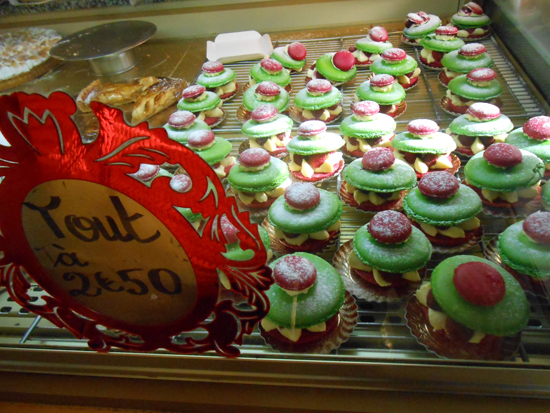 I bought their homemade mini Madeleines and the greatest cookies in a France, Oriettes de Langeuedoc. They come in a large box of 20 and if you can find them anywhere, rush and buy them and dunk them into Mariage Frere tea. Trust me, after living with and around Elizabeth Taylor for 20 years, I know how to eat!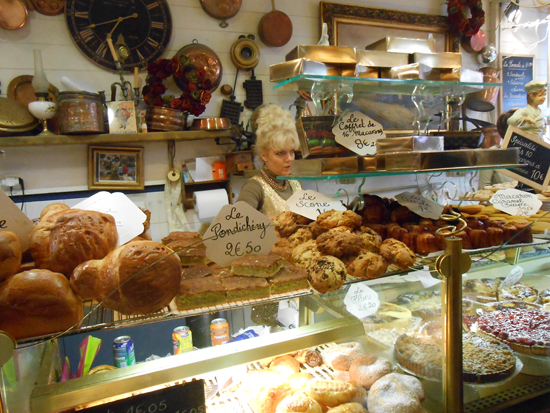 My everyday dinner hangout is my local, the Atlas in the Buci Market. My celebration dinner was the meal I've eaten every night for 40 years on my first night home in Paris. Moules Mariniere is served with giant perfect Fench fries that I dunk in Dijon mustard is my favorite, and in between dunking my French baguettes into the mussel-vin Blanc sauce and the frites I never have eaten dessert. At Atlas, I've never had room left in my body after their plate of giant French fries (one inch by four inches) that are served crispy on the outside and yummy soft inside.
My birthday trip was highlighted by two wonderful movies, Prisoner and then La Vie d'Adele (Blue is the Warmest Color). It won the Cannes Oscar, the Palme D'Or and the 20-year-old actress who plays Adele, a beautiful young girl in love with a blue-haired woman, (Adele Exarchopoulos), her real name, broke all our hearts as she cried 10 times, including lots of snot, and won best actress. She will become a big movie star all over the world.
After Adele's performance I needed nourishment and I returned to the outdoor cafe Atlas in the Buci market for fish soup and endive salade with blue cheese and walnuts. As there were no frites, I could eat creme Brûlée for dessert. As I watched the street traffic, I wondered with my friend Gayle, if there will be a sequel to Adele, as the "open to your imagination" ending will cause a world conversation. The film opens in the States this week — including the 10-minute lesbian sex scene.
My week of French food was also about choosing the 25 cheeses to take on the plane allowed by U.S. customs. I also take back French coffee Carte Noir, Moroccan Mint Tea, white honey, dark blue Myrtilles jam, Breton cookies and gift boxes of Dark chocolate truffles from Pierre Roger.
Paris dining is all about food treasures that do not really exist in America, as I was told by the great chefs, the water and flour are different.
I love our Florida farm and my mountain cabin in New York, but ah, believe me, Paris for a week is the best birthday present in the world.