I Lost Weight in 2 Weeks by Giving Up Eating Everything White
August 19, 2012 Posted by admin
I must tell all you ladies how I lost 10 pounds in two weeks by giving up eating everything white! Here is how it happened.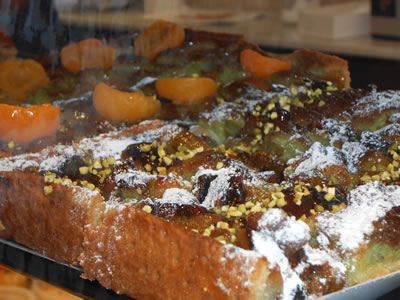 I returned from a Paris trip (where I did my fashion-art-food blog with Sue Bloomberg), and I photographed more desserts than art or dresses: a Mont Blanc from Laduree, a pistachio-pear tart, cafe macaroons from La Roi des Siecles Cafe, and multiple cafe cremes and croissants at my favorite outdoor cafes, La Palette and Pick Clop.
When I arrived at our Florida farm my husband, now fasting and only juicing (living on apple-carrot juice) said to me, "You can't wear those stretch pants, you look pregnant!" It was the week of our celebrating 25 years together, and he had never before said that I looked pregnant.
I have an upcoming August appearance on Home Shopping Network selling my sexy dresses, and something went bong in my head, and my brain screamed out, "You have to go on a diet!" A terrible thought that, luckily, I've never had to consider before. I could always eat anything and get away with it, as my couture customers at Bergdorf never cared how I looked; it was all about them.
Dr. George Wong, a famous Chinese herbalist, had once told me to only eat red and purple food for cancer prevention, then green, orange and yellow and never eat anything white. I thought, I will try the cancer prevention diet for weight loss, and voila! I now weigh 10 pounds less in two weeks without a diet!
Here is what I gave up: low fat milk in my coffee and tea, white bread and white flour products, pasta, potatoes, cheese, butter, yogurt, mayo, whipped topping, ice cream, white sugar, salt, white covered raisins, and even bananas… you get the point.
Here is what I replaced that with: cherries, blueberries, strawberries, pink grapefruit, aubergines, broccoli, spinach, carrots, lettuce, tomatoes, dark tuna, salmon, salads, beets, nuts, raisins, red beans, red onions, red sweet potatoes, bell peppers, red pepper hummus, and dark chocolate squares with mint tea all afternoon.
I do not eat chicken or meat or drink anything but coffee, tea, and water. But the no meat, no drinks diet has never helped me to lose weight.
I ate the dark-colored foods all day when I was hungry, until I was satisfied. I did not diet or count calories, and I did not feel deprived.
These were some of my red food creations, and these meals were all covered in multi-colored peppers from Africa that I crush in an antique pepper mill I acquired while living in Italy (read my memoir about what I gave up for this pepper mill):
Hummus with red bell pepper instead of chips as a dipper…
Avocado, tomato slices over tuna salad, made with pickled relish and spicy red cocktail sauce, instead of mayonnaise, on one slice of toasted brown wheat bread…
Lettuce, beets, red bean salad with almond slices, blueberry and cranberry raisins with olive oil, and lots of fresh basil from our garden…
Roast salmon with roasted squash, aubergines, cherries and fresh blueberries on top.
Breakfast was early at sunrise: black expresso coffee with half a pink grapefruit, strawberries, one slice of fresh brown grain bread with nuts and cranberries, covered with fresh cherry jam (no red dye), and a few almonds to fill me up!
Lunch was my biggest meal, then tea and chocolate at 4 p.m., and supper at 6 p.m. (the lightest meal of the day). If I still drank I would have a small glass of red wine here and a lighter meal for supper. After totaling my fifth car 20 years ago, I don't drink, but if I did I would have one glass of red wine with this diet. It would be a light fruity burgundy — Clos de la Pousse D' Or, if you can find it!
Vicky Tiel began designing clothes 40 years ago in Paris and still owns a boutique there. Her NEW Collection for HSN is available on TV and online, her couture is available at Bergdorf Goodman and Neiman Marcus, her perfumes are carried in Perfumania, and her vintage couture is available on her website. Vicky's memoir, "It's All About the Dress: What I Learned in 40 Years About Men, Women, Sex, and Fashion," was published by St. Martin's Press in August 2011.