Upstate NY Hottest Destination a Return to the Roots
July 9, 2014 Posted by admin
The picture perfect romantic getaway town of Claryville, New York has opened its Art Center this weekend with its first show, the work of acclaimed Russian-American artist, Alexander Kaletski titled "Forty Years in America." The show lasts thru the long snowy winter.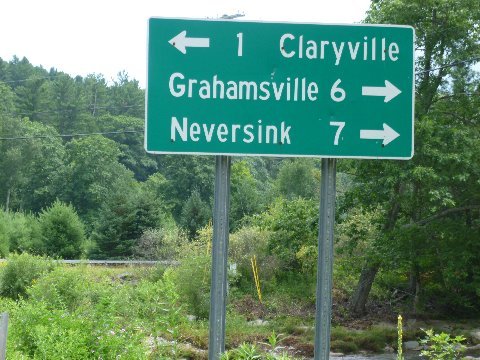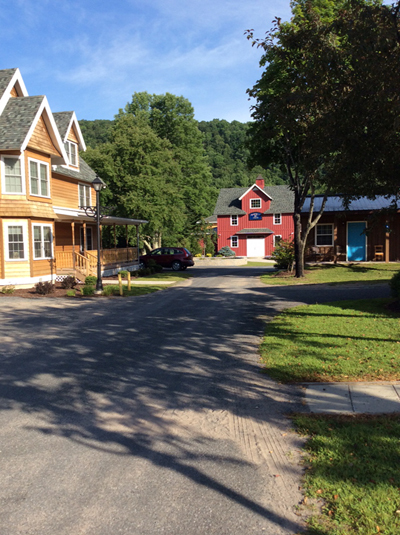 Kaletski's colorful Contemporary work also hangs in the Blue Hill Lodge next door to the Gallery, at the Anna Zorina Gallery at 533 W. 23 st Chelsea NYC, where Kaletski will have a simultaneous show this fall.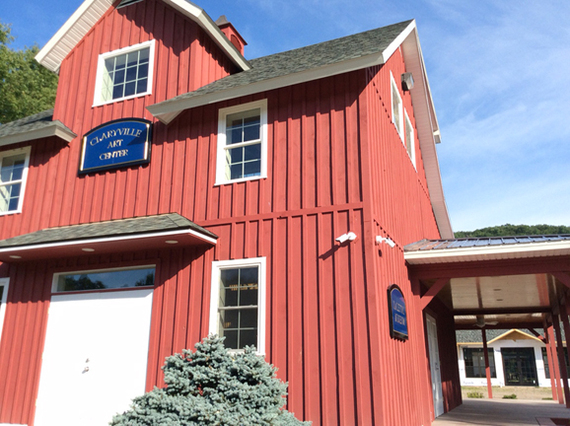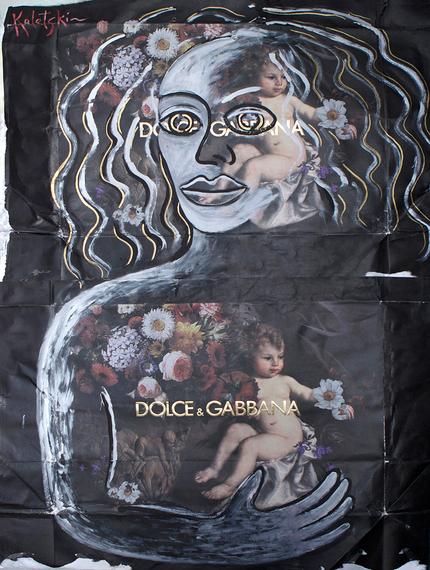 The town of Claryville lies in a deep Catskill valley on the border of Sullivan and Ulster Counties. It is a great escape from the nonstop social life of the Hamptons for New Yorkers who are cocktailed out by August. Many of the Hamptonites turned up as well as the locals and country gentry turned out for the ribbon cutting champagne swirling opening ceremony.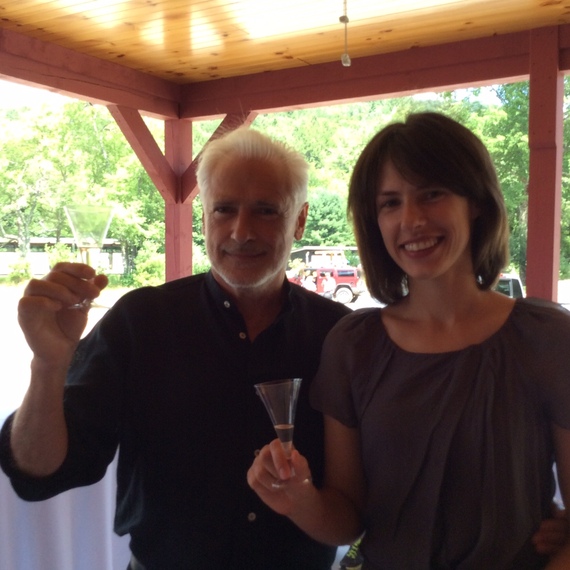 Alexander Kaletski and Anna Zorina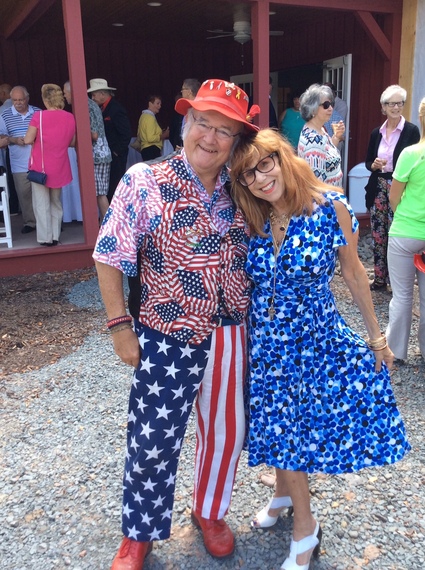 My patriotic wrap dress with a local guest, Forrest.

A Destination Weekend Village was the dream of New York lawyer Frank Nicoletti whose great uncle bought land in Claryville in 1927 to escape the summer heat and to go hunting. Frank inherited the land and built his own home in the '90s and dreamt of turning his sleepy Catskill weekend home town into an Art Center, a happening home for top New York artists to show their work. He admired land a mile from his house belonging to Frost Mountain YMCA and bought it in 2007 to build the Blue Hill Lodge with five guest rooms and restored a 1820s home for two families. Claryville under Frank's guidance the property will soon become a brewery with it's own pub, an Event Center a wedding destination catered by the Event Center's full service kitchen and an Art Center for art fairs like Art Basel in Miami. The talented local artists will be able show in the booths of the new Event Center and celebrity artists will be curated by Anna Zorina whose bespoke gallery in Chelsea, will attract major artists to show in the three story red barn gallery that can house larger art pieces and huge sculpture. It will be a perfectly dreamy setting on the 25 plus mountain view acres.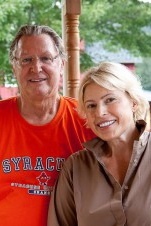 Frank and his wife Irina, opened Blue Hill Lodge seven years ago on the Neversink River. The town of Claryville, known by fly fishing enthusiasts as the spot where Dr. Gordon invented the The Gordon Fly. The town has been a deep dark kept secret to the non fishing folk until the Inn opened with a charming restaurant. Unlike any other restaurant in the state and as Irina is Russian, she believes in triple size portions of her home made borscht followed by slow roasted pork and Mediterranean rice or meatloaf served with a plate of home fried sweet potatoes, followed by tiramisu. I had yet to see anyone finish a meal but all the leftover meals were all taken home in large boxes! There is also The Blue Hill Wine and Spirits stocked with fine European wines, French champagne and Russian and German craft beers (the only liquor store around as Neversink county is dry) and for afternoon ladies tea there are European tea biscuits as well as exotic sweets like Halavah and Austrian wild Lingoberry jams and all the NYC papers.The delicious fresh organic food I found out comes from the local organic Neversink Farm. Claryville, was always a know destination but only for it's fishing of delicious brown trout. The trout is stocked yearly by New York state and when you drive over bridges there are as many fathers and sons fishing as in Colorado. The Blue Hill Lodge will also rent riverside log cabins including Dr Gordon's trout lodge with multiple bedrooms and porches with wooden rocking chairs, a must to have for reading books on birds and fish and now art! There are 189 known different bird songs on site with Bald Eagles having fish for breakfast on the river.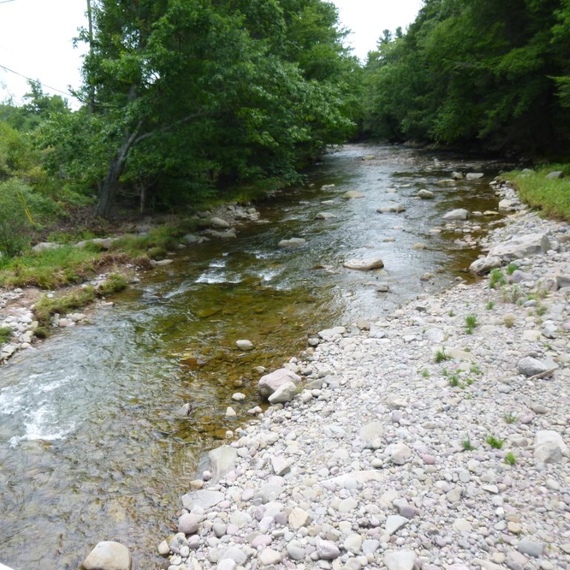 The Town is in the Frost Valley, where the Frostmann mansion was built in 1900 by a German wool merchant and now is the home of the Frost Valley YMCA, a beloved spot for sports for city children and beloved crafts retreat for city elders.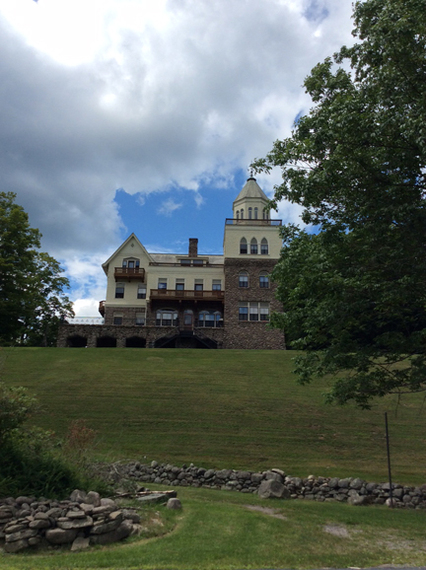 Frank and I met 35 years ago in a NY club, The Limelight, where we had been partying hard with Hollywood friends. We've evolved as friends from the disco age thru middle age. Frank walked my eldest son Rex, down the aisle in a chateau in Normandy France as neither their father or step father would fly over the pond. Frank not only has a big heart for a tough lawyer he was a 1960's basketball superstar at Syracuse along with Jim Beheim and Dave Bing. I introduced Frank to his stunning blond wife Irina, who worked for years selling my gowns and Valentino's gowns at Bergdorf Goodman in the couture department. I knew Irina could pick out beautiful ball gowns but did not know she could really cook. Happily her homemade borscht is just what the bikers need to climb nearby Hunter Mountain. Much like myself who began writing at 65, and selling dresses on HSN TV at 68, starting a new career at retirement age is a new way to look at life. If we live to be 100 we MUST find a second job that's close to our hearts. How boring it would be to only watch reality shows for our last 35 years. I prefer my and Frank's idea of continuing our careers but also working on totally new second job in late life, developing properties, writing, teaching and television .New challenges gives us a longer life, I am sure! Frank chose a second job of owning an inn and art center that also helps his community with more jobs, more tourists, more recognition and also helps by bringing the attention to New Yorkers that the small upstate towns are the perfect place for the baby boomer to return to find his roots. Small towns can be made into art/food/sports destinations with winter skiing and in summertime there are glorious Town and State fairs. Nearby Bethel or Woodstock have nonstop rock concerts and there are mountains with waterfalls for biker boys. All are perfect destinations for the under 50.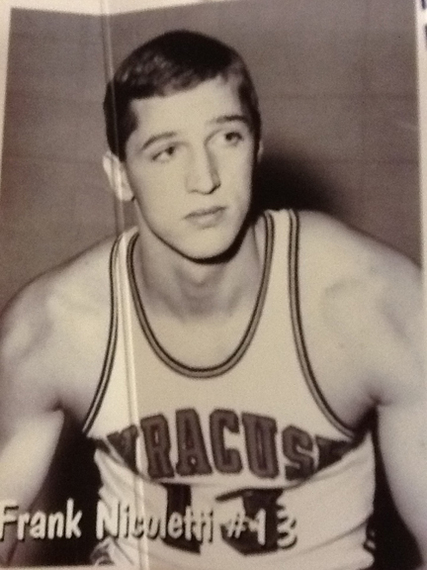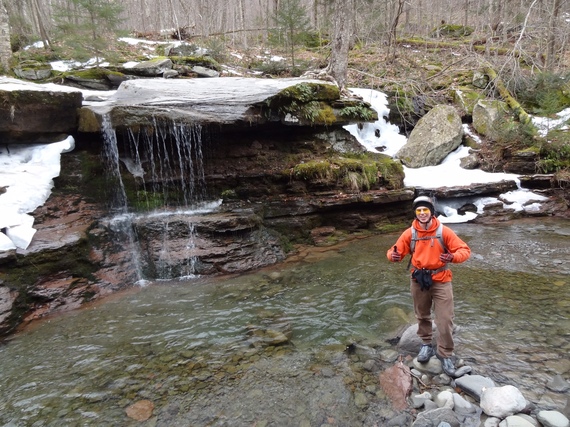 It's the future of America, RETURN TO THE ROOTS, the joy of returning to cozy small towns, upgrading them for artists, and craftsmen and chefs, so that real nature and real peace and real happiness can be had by all.